Agreements Primer
Handling Intellectual Property in Commercial Relationships
Interacting with third parties, such as product and service vendors, suppliers, and partners, is routine for many employees. Many circumstances require employees to discuss highly valuable proprietary information, and an agreement should be established before sharing information. In the Agreement Primer, learners will explore what agreements should be established and how to create such agreements.
The Agreement Primer is a 15-minute course that explores types of proprietary information, emphasizes the need for secrecy, and describes the typical agreement.
Employees will learn about the business value and underlying principles of intellectual property assets.
Agreements Primer Course Objectives:
After completing this course, learners will be able to:
Recall the common circumstances that agreements are required
Discuss key components of the most popular agreements
Contrast the purpose for each type of common technology-related agreement
Recognize the importance of having agreements, and understand the potential risks of not having an agreement
Identify circumstances where sharing proprietary can be avoided
Determine the correct agreement for different circumstances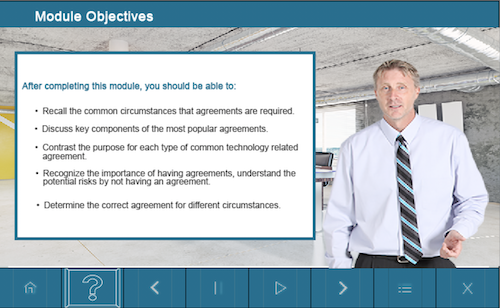 The ipPerformance Training Difference
ipPerformance believes intellectual property training is essential to increasing business value and reducing risks.  We combine seasoned subject matter experts with our instructional design methodology to develop interactive, engaging, and adaptable courses to reinforce an IP-driven culture.